Broadway's 'Spongebob the Musical' Hits Coleytown Middle-School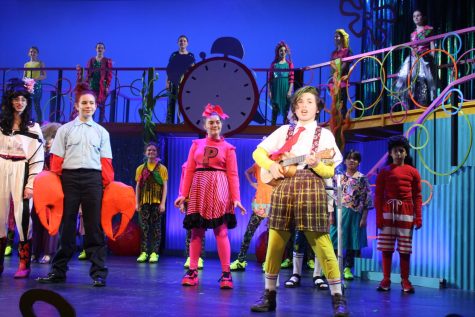 Spongebob, a highly favored children's cartoon among generations, is a prominent part of all our hearts and even more so now as it came to Coleytown Middle School (Westport, CT)! Between the set, cast, and most importantly the music, the show was a major success winning the hearts of Westport citizens.
The success of the show depended strongly on the cast and their abilities. Ari Sklar (Spongebob) despite only being twelve, has been in 9 theater-related projects, having done shows for both Coleytown Middle School and Staples High School in his short yet strong career in acting. The actors all share one thing and this is passion. Denver Razza, also a seventh-grader, landed the role of Mr. Krabs even though this is their first experience in musical theater, they were incredibly successful in their role and contributed greatly to the show's success.
Another factor of its success was the beautifully crafted set. All credits go to the incredible tech crew consisting of grades seven through eight. Shout out to Lucas Blanco and Brynn Livingston for taking out the pineapple and to Nick Trinchi for his professionalism as tech crew. They all managed a "broadway-like" set according to Ms. Bowles. She heavily praised their work on the set calling it "beautiful" repeatedly. 
The cast and tech crew of Coleytown Middle School put on an amazing show and all of the smallest to largest details and efforts made contributed to its success.