Wordle Bought by New York Times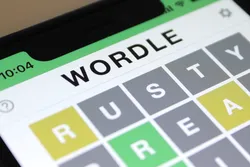 Wordle is a once-a-day word game that you can play using this link: https://www.powerlanguage.co.uk/wordle/.  It launched in October of last year and since then it has flooded Twitter while exciting "puzzle nerds". Wordle is a quick and simple word game that people of any age group can enjoy. The daily word is always something simple, but it still challenges players every day.
Once a day you have six chances to guess a five-letter word, with clues guiding you along this way. This brain game was created by Josh Wardle for his girlfriend, Palak Shah. Earlier this month in an Interview with Times, Wardle admitted Spelling Bee one of the paper's subscription games partly inspired Wordle.
The intriguing thing about Wordle was that it wasn't subscription-support or ad-based contrary to other games on the internet. There wasn't even an app! This was one of the main reasons why Wordle stood out. The New York Times did not release the terms of the Wordle purchase, though it was stated that it paid in the "low seven figures."
In a Twitter post, Wardle says he has found the happening "a little overwhelming." Wordle was quite literally an overnight sensation! Fun fact: This is not Wardle's first famous game. He was in charge of both "The Button" and "Place", which collected lots of positive attention though incomparable with Wordle which is said to have over a million users per day.
Engadget says, "The game has itself become a sort of template for a new variety of word puzzles." More variations appear to be released every week including Dordle and Crosswordle. Wordle is taking its next step becoming playable on nytimes.com though functionally things will remain the same for players. It might take you only five minutes to figure out what Wordle's word of the day is, but it is a great way to exercise your brain and if you want to, compete with friends and family to see who can get the answer first!